Compassionate Live-in And Visiting Home Care Services
Professional, personal, and committed care for the elderly and older adults at risk in Devon
Helping you or your relatives live a fulfilling, independent life safely at home with flexible, cost-effective, and exceptional personal care.
Life as an Unpaid Carer
19 Aug 2022 Chris Lorimer Care support / General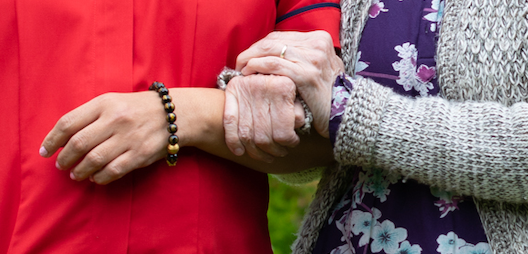 An unpaid carer is a person of any age who cares and helps, unpaid, for a family member, friend or neighbour who cannot care and support themselves without help.
When Mary Lorimer's mother initially became ill, Mary instantly opened her home to her mother and began caring for her. As time went on, Mary found herself consumed by the caring responsibilities to her mother as her condition worsened – to the point where the boundaries between daughter and carer had begun to blur. As realisation set in, it was becoming more obvious that Mary was becoming an unpaid carer. It was at this stage when Mary decided to ask for help.
Mary, living in the East of Devon, initially found paid care hard to organise due to her home's rural location. She found that paid-carers were not willing to travel to rural areas and when Mary eventually found paid-carers willing to travel, the quality of care in Mary's eyes, was rushed due to the paid-carers tight schedules. This meant that their relationship with Mary's mother was not as personal as Mary felt it should of have been considering the care needed was of such a personal and private nature. Mary believed it was fundamental that the care her mother received was not just professional but also sincere, friendly and passionate and also thorough regardless of the location the care is being sought.
The answer to this form of care was to be found through a paid-care named Helen. The level of care and attention Mary's mother received from Helen allowed Mary to be a daughter again at a time that was most important for her to be. Helen's support meant that Mary could read her mother books, watch films with her and spend treasured time with her. Helen helped take pressure off of Mary, showing her that she didn't have to care for her mother alone and without support for herself.
Mary's experience as an unpaid carer has moulded the way Care With Kindness operates, their careers are devoted to you or a family relative and are passionate to do everything they can to nurse and help your loved ones. At Care With Kindness, it is the not doing it alone that motivates our carers to deliver thoughtful and compassionate care regardless of your location and the level of care that is required to keep you well.
If you or a family member would like to seek advice from someone at Care with Kindness you can send an email to team@carewithkindness.co.uk or if you would like to speak to someone directly, you can ring us on 01884 220150.
Search blog
Post categories
Recent posts
Archive posts