Compassionate Live-in And Visiting Home Care Services
Professional, personal, and committed care for the elderly and older adults at risk in Devon
Helping you or your relatives live a fulfilling, independent life safely at home with flexible, cost-effective, and exceptional personal care.
Why live-in care might work for you
26 Aug 2022 Chris Lorimer Care support / General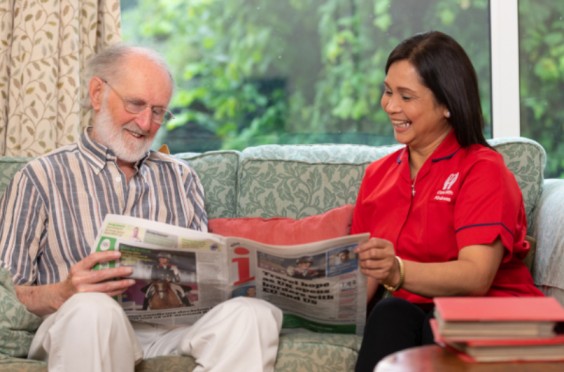 Live-in care is when a fully trained and qualified carer lives with you in your own home. The live-in carer will support you and care for your loved ones needs within the comfort of your own home. This service can be essential when daily home care visits do not provide enough time and support to satisfy your needs of the cared for person and their family. Care With Kindness are delighted to provide a live-in care service, which may be the best next step for you or someone in your family.
So what are the benefits of live-in care?
Having a live-in carer in your home could be considered as an alternative to going into a care home. A live-in carer would ensure that the person receiving care will be able to stay within their own home and retain their independence as much as possible. Through the carer's support you will receive 24-hour care every day as and when you need it. You are their only priority and as a result, the live-in career will always be focused on you or your loves ones needs and their needs only. A live-in carer will help to improve not just physical health but can also help improve mental health by providing a source of companionship which minimises feelings of loneliness. A live-in carer can also be a source of comfort for the person receiving the care as well as taking the pressure and anxiety off of your mind. This can also provide families with a peaceful mind as your needs will be met 24-hours a day, seven days a week.
What type of care is offered?
Every person's needs are different and so the type of care offered depends on what care is best suited for your need. You can expect however, care ranging from basic personal care and household assistance such as bathing, dressing, shopping and help with medication. You can also expect household assistance such as cooking, cleaning, washing, shopping and transport. Care With Kindness also offer recuperative care, wellbeing support and support for your family. The live-in carer will also ensure that your house is a safe environment for you to live in and that your needs will always be met whenever you need them.

How to contact us
Here at Care With Kindness we know this can be a very stressful and time-consuming process, so if you wish to seek advice from someone at Care with Kindness you can send an email to team@carewithkindness.co.ukor if you would like to speak to someone directly, you can ring us on 01884 220150.
Search blog
Post categories
Recent posts
Archive posts